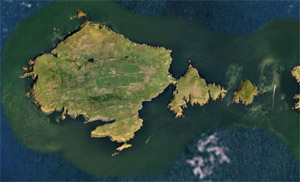 Skomer is a 2.92 km² island off the coast of southwest Wales, one of a chain lying within a kilometer off the Pembrokeshire coast and separated from the mainland by the treacherous waters of Jack Sound. Skomer Island measures approximately 2.4 km (1.5 mi) north-south and 3.2 km (2 mi) east-west.
We visited Skomer in 2006.
We had to catch a ferry from Martin's Haven to Skomer. Once we moored up we all disembarked from the boat and headed up the hill towards the center of Skomer.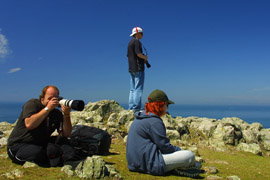 Our primary goal of visiting Skomer Island was to capture some great images of the puffins as it was the mid breeding season for them when we visited. There was an abundance of other wildlife out and about on the island during the day
According to the warden, who spoke with us as we arrived, we would be better navigating the island counter-clockwise. This was so that we arrived at the puffin breeding cliffs when the birds are most active. Three of us set off as directed, the other seven or so went clockwise.
At the time we visited the Island, the guide for Skomer indicated that it is possible to see the following wildlife.
Puffins (6,000 pairs)
Manx Shearwaters (120,000 pairs)
Guillemots (10,000 pairs)
Razorbills
Skomer Voles
Grey Seals
It was very easy to get some great close up shots of the puffins once we just laid down on the ground and kept quiet, they just went about their business while we snapped away.
I hope you found this article interesting, it took me long enough to get it all together, we visited in 2006 and I wrote this in 2011. Skomer island is a great place to spend the day if you can make it to Wales.
Steve